---
Joe Biden pledges to be 'a president who unifies' in victory speech
Joe Biden has pledged to be "a president who unifies" in his first speech since being named US president-elect.
Vice president-elect Kamala Harris introduced Mr Biden and called him "a healer" and "unifier".
The Democratic candidate is projected to win the White House from Donald Trump, after breaking through in the key battleground of Pennsylvania.
Flipping the red state blue handed him 20 Electoral College votes, taking Mr Biden over the threshold needed of 270, followed by another win in Nevada.
He is also ahead by thin margins in Arizona and Georgia, as several counts continue.
Follow live updates as Joe Biden becomes president-elect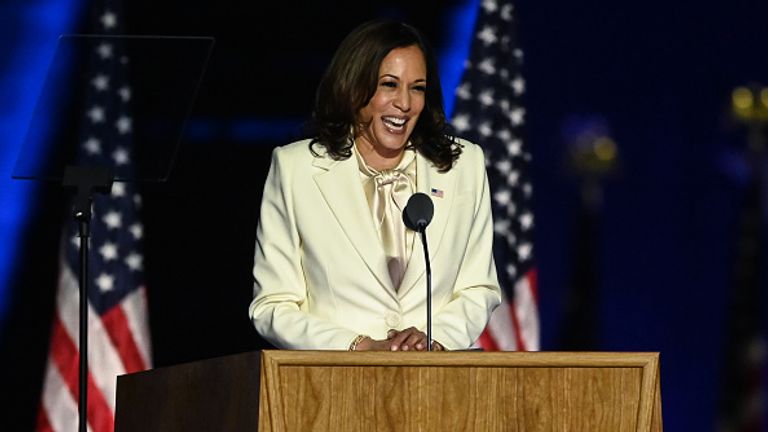 Mr Trump is refusing to concede and has vowed to launch legal action, challenging the legitimacy of the result by claiming – without evidence – voter fraud and ballot stuffing on a mass scale.
He was playing golf when the announcement was made, and has since proclaimed "I WON THE ELECTION" on Twitter, also claiming he won the most legal votes of any presidential candidate – which is actually a record set by Mr Biden.
World leaders have already sent congratulations, with Prime Minister Boris Johnson saying: "The US is our most important ally and I look forward to working closely together on our shared priorities, from climate change to trade and security."
In a written statement earlier, Mr Biden earlier accepted victory and urged Americans to unite, after a bitterly divisive campaign.
"With the campaign over, it's time to put the anger and the harsh rhetoric behind us and come together as a nation," he said.
"It's time for America to unite. And to heal. We are the United States of America. And there's nothing we can't do, if we do it together."
Barack Obama, whom he served as vice-president under, has also warned "the country remains deeply and bitterly divided", so Americans should "lower the temperature and find some common ground".
Mr Biden has already launched his transition planning, so he can hit the ground running when he takes office in a few months.
After being inaugurated on 20 January, he will officially become the president.

© Sky News 2020
---